Firm : Publications
The Nonprofit Consulting Playbook, Winning Strategies from 25 Leaders in the Field
Linda Lysakowski, CFRE, and Susan Schaefer, ACFRE
318 pages, May 2013
With Margaret Holman as contributing author [read my chapter]
The first book of its kind to delve in consultants' firsthand experiences in order to help new consultants get started on the right foot. This book reveals veterans' strategies for reinventing themselves, and exposes mishaps and lessons learned from some of the best in the field.
Available from these sellers »
Review
This is the book I wished for when I began my consulting career. It's a fun, practical look at the business side of nonprofit consulting. For those of us who "grew up" in the nonprofit sector, it should be required reading if you are considering moving from staff to consultant.
— Barbara I. Ciconte, CFRE
Donor Strategies Inc.
Major Donor Fundraising
Margaret M. Holman and Lucy Sargent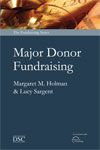 208 pages, January 2006
Funding from major donors can mean the difference between a charity's success or failure, yet many of us don't set aside the time or resources to find and build relationships with the people whose financial support matters the most. Illustrated with comprehensive case studies and sample correspondence, this book offers practical, step-by-step advice about how to go about getting — and, most importantly, keeping — major donors.
Available from these sellers »
Review
The book is worth its weight in gold (perhaps literally). The practical tools are easy to use and give just the right balance of science and art to the challenge of fundraising… At last there is something for everyone.
—Alistair Lomax, Executive Director
UNIAID, The Students' Charity
Margaret Holman's co-author Lucy Sargent is currently Campaign Director for a major gift appeal at UK charity, Marie Curie Cancer Care.
The Complete Guide to Careers in Fund Raising
Margaret M. Holman and Jeanne Sigler
80 pages, Kendall/Hunt Publishing Co., June 1998
In eight chapters, co-authors Margaret Holman and Jeanne Sigler present job opportunities, types of positions and job descriptions, salary negotiation information, suggestions for breaking into the profession and advancing, and an outlook for a career in fund raising. Three career snapshots and a reference list complete the book.
Recommended for those who are considering a career in fund raising for nonprofit organizations or those who are advancing in the profession.
Review
…the perfect first pass on reviewing possible employment in the nonprofit sector.
—Philanthropy News Digest, September 23, 1998
Margaret Holman's co-author Jeanne Sigler is president of Jeanne Sigler & Associates, Inc., a New York City-based fund-raising consulting firm.